Nearly every homeowner we meet with is grappling with or is anxious about the same things related to their custom home. Foremost on their mind - "Is my project going to go over budget or will I be surprised by hidden costs after we get started?" There are plenty of stories about nightmare projects that came in at double or three times the original estimate.
Another thing on people's minds is, "Am I going to get what I want / need and will it be high quality?" Homeowners also want to make sure that they won't be stuck with a project they regret. They want it to be well designed and to know that it's a good financial investment. Most of all, nobody wants to get ripped off by a contractor.
I can show you the most effective way to tackle those - and a few other - issues when it comes to custom homes. First, I want to show you that these are NOT your biggest challenges.
In custom home building right now, the biggest risk to your project is the, FREE ESTIMATE. It is an outdated (maybe even unethical) approach that too many contractors are still using. People have been programmed to think the "free" estimate was the best way to start their project.
Some still think this way, but now we know there are better ways to go to ensure you are getting a fair deal and won't be hit with unexpected charges. If you wanted to go the free estimate route, here are a few things you would need to know.
Things Have Changed
Back in the day, there was no good way for home builders to track all the details on a building project and know what that project would cost up front. So, they gave an "estimate" based on assumptions, allowances, and guesses. It's really hard to charge people for guess-work so, the "free" estimate terminology took off in advertising and marketing efforts.
The lure of a "free" estimate (or guesstimate) often overshadowed the potential pitfall of huge budget busters and unforeseen circumstances. Why unforeseen circumstances? Because it's a free estimate!  Remember, you get what you pay for!
After you commit to your project based on their free estimate, these home builders do the work, collect all the receipts, add up the numbers, and hand in the bill. They won't know the cost until the project is completed. Fortunately for you, things have changed!
At Helton Construction, we now use innovative techniques to capture all details, specifications, and style selections so you can have a detailed proposal with complete clarity on what you're going to get and what it's going to cost. You'll get this before we start your project so, you can make the best decisions for you and what you want out of your custom home build.
What They're Not Telling You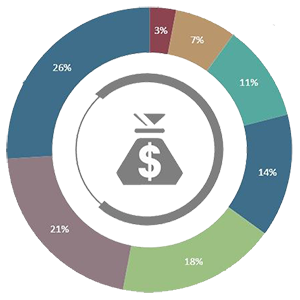 The other builders that say the free estimate approach works are probably not telling you an "estimate" isn't what you want. It won't help you and in fact will most likely set you up for failure and heartache. It's worth exactly what you paid for it.
Taking a guess on a custom home building project that cost hundreds of thousands of dollars isn't something you really want to risk. You'll want to know, with certainty, that you will be able to afford what you have asked for, and without surprises.
What you really need is thoughtful, detailed plans, and specifications and contract pricing that require hours of professional experience planning, drafting, specifying, and reviewing with you all the components and selections involved in doing the job right.
It's a great deal of work, even for smaller projects. For those reasons, it can't be free. Builders are simply not going to put the work in that is required for you have this level of specificity and confidence. If they claim they can be both detailed and free, it's likely something offered by a company that won't be around long enough to make good on their warranty.
Unethical?
I mentioned the word "unethical." Here are two other things the other contractors may not be telling you about. Free estimates could be the most expensive estimates you can get. In our line of work, it takes an average of 10 free estimates to sell 5 projects.
If there's no such thing as a free lunch; who pays for the 5 "free" estimates that don't turn into contracts? That's right, the person who hires the contractor. I don't know how this makes you feel, but we don't believe it's right to punish our paying clients for work we didn't provide to them.
We don't believe telling someone they're getting something for free, then rolling the cost of all that consulting onto those who hire us is transparent, or even ethical.
Speaking of ethical, have you heard of projects that came in at double or triple the original free estimate? I've found that the reason people give free and unrealistic estimates is to try to get their foot in the door. When somebody is doing something for nothing, how will they make for the lost time? They usually try to cut corners and minimize their time required to bid the job.
At Helton Construction, we've chosen not to play that game. We feel it's more important to be very forthright to our customers.
There's no doubt that the other contractors are building in their time to give you that free estimate, you're just not going to pay for it until after they have given you the price and you've hired them. After the job starts they uncover issues they overlooked in their haste to put together a "free estimate." The issues that come up will result in the dreaded words "Change Order". This is where free estimates get very, very expensive.
Our Solution To This Problem
OPTION 1
The first option is to put together a free estimate based on assumptions, allowances and either include contingencies to cover those gaps, or be willing to come to you for change orders after we get started. You'll make a big financial commitment (a contract) for the estimated cost of your project, and write a big deposit check.
AFTER you make that big commitment, we would finish the process of turning the estimate into a detailed proposal, so you could know what you're going get and how much it's going to cost.
OPTION 2

The second option involves a small investment up front so we can do the planning and design work UP FRONT, to make sure you get what you want.
You'll have complete clarity on what you're going to get and how much it's going to cost BEFORE any work starts. You'll also have a chance to give us a test drive to see if you even like how we operate. And you'll only make a small commitment and write a small check up front.
This combination makes for a thorough understanding of what the project consist of and keeps a tight budget with a tight timeline . Also, by doing all the necessary planning up front, we may be able to save you enough money to offset the cost.
So, our question to you is, when would you prefer to find out what you're going to get and how much it's going to cost? In the middle of the project or before you get started?
At Helton Construction, we have decided that Option #2 is the best option for everyone. We call this our Pre-Construction Services Agreement. I would be glad to go over those details with you if you would like. What do you think?