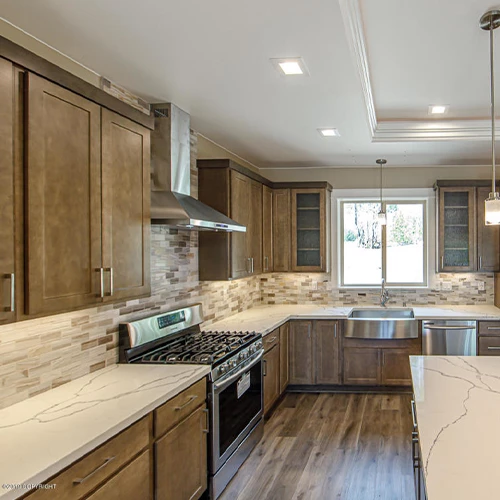 Real estate is often unaffordable in big cities, especially in picturesque locations such as Colorado's Rocky Mountains. If you're considering buying a home near the Rockies, you won't find a better option than a custom-built house in the mountains of Fremont County, Colorado.
At Helton Construction, we specialize in creating custom-built homes for folks throughout the prized southeast region of the Centennial State. In Fremont County, you'll be living on the doorstep of Colorado's most beautiful mountains, rivers and plains. This location offers all the peace and tranquility of country living as well as convenient access to big cities such as Denver and Colorado Springs.
Spend Less Money on Your Dream Home
The benefits of buying country property are numerous. Not only will you have plenty of privacy and quiet, but you'll live in a cleaner area with better air quality and views of the incredible landscape. With a lower population density, you'll have fewer competitors vying for your property, which means you'll save significant money on your investment.
Whether you're trying to escape the Denver or Colorado Springs real estate markets, you simply can't go wrong with a move to Fremont County. It's one of the last undiscovered markets of Colorado, so you can begin your new life from scratch with a custom home from Helton Construction. We'll build your dream home to your specifications with quality craftsmanship and attention to detail.
Enjoy Local Scenery, Services and Amenities
Historic Cañon City sits just 40 miles southwest of Pueblo and 45 miles from Colorado Springs. To the south of Cañon City, the breathtaking Temple Canyon Park offers opportunities for camping, hiking and fishing. Climbing enthusiasts will love Fremont County's Curley Peak, which rises to an elevation of 9,660 feet.
Whether you plan to go backpacking through the wilderness or simply enjoy the view from your back porch, the amazing scenery will never get old. With 1,534 square miles of mountains, forests and rivers to explore, you'll have an adventure available to you in your backyard.
Escape the Large Crowds and Daily Grind
With city life comes noise, pollution and crowded living conditions. Many people believe they need to live in the city to have easy access to grocery stores, theaters, museums and other modern conveniences. This belief couldn't be further from the truth.
In the peaceful rural environment of Fremont County, not only will you have quick access to many boutique outlets and restaurants, but you won't have to feel stressed out and agitated all the time. Excessive stress and inflammation are risk factors of a wide range of illnesses from stroke and heart attack to cancer and diabetes. A life away from the daily grind of the big city is the perfect antidote to many of today's chronic diseases.
Get a Great Deal on a Premium Custom Home
When you work with us at Helton Construction, you'll get a great deal on a premium custom home with a private parcel of land. Surrounding your property, the majestic landscape of southeastern Colorado will greet you every day when you step outside. With our efficient workmanship and professional knowledge, we can help you save time and money on the construction of your home.
We're experienced homebuilders with ready-made floor plans for you to choose from to start customizing your new home. You won't have to worry about mistakes costing you thousands of dollars and weeks of your life because we know exactly how to execute a homebuilding project from start to finish.
Invest in Prime Rural Real Estate
An investment in rural real estate is a wise choice in today's competitive property market. Because Fremont County is a highly accessible location with highways connecting it to Colorado Springs and Denver, the time to invest in Fremont County real estate is now.
With real estate prices on the rise, homebuyers are increasingly looking for investments in rural property, so it's only a matter of time before Fremont County is a fully developed suburb of Pueblo and Colorado Springs. When you purchase a parcel of land in Fremont County, not only will you benefit from the environmental beauty and relaxed pace of life, but you could earn significant money from the investment.
We're ready to get to work on your new dream home. We'll use your ideas to design the perfect custom home for your future. Whether you're starting a new family or planning your retirement, call us today to find out how we can help you realize your dreams.