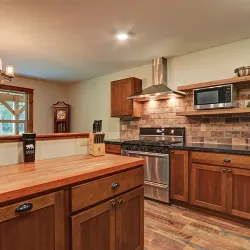 At Helton Construction, we specialize in building custom homes in beautiful Fremont County, Colorado. From the initial planning stages to the final walkthrough, we provide all the resources and support necessary to ensure a smooth and stress-free building process.
We pride ourselves on superior craftsmanship and attention to detail. Every custom home we build is as unique as the client with whom we collaborate. We understand that your home is a reflection of your personality, your lifestyle, and your aspirations, and we take great care to ensure that every detail is executed to perfection.
As a premium Colorado custom home builder, we have built our reputation by consistently delivering excellence to our clients. We strive to exceed your expectations and create a home that is not only beautiful but also energy-efficient and built to last.
Homes Built To Last
Our commitment to excellence extends beyond the construction process. We take pride in providing exceptional customer service and support even after the project is complete. We want you to love your new home, and we will work with you every step of the way to ensure that you do.
When you choose Helton Construction as your custom home builder, you can trust that you are choosing a team of experienced professionals who are passionate about creating the perfect home for you. Contact us today to learn more about our services and how we can help you create your dream custom home in Colorado.
At Helton Construction, we take pride in our reputation for quality, reliability, and exceptional customer service. We are passionate about creating homes that are not only beautiful and functional but also meet the unique needs and preferences of our clients. If you are considering building a custom home in Fremont County, we would be honored to work with you to create the perfect home for you and your family.
You'll see the creativity, the attention-to-detail, and the commitment we put into our custom homes.  Every home is special, built with the consideration to detail and care it deserves.
Beautiful Custom Homes on Colorado Terrain
As many would-be, existing, or potential homeowners here in Colorado will vouch for, the naturally manifested landscape that is common to the Rockies is equally alluring as it is challenging when it comes to prospecting, charting, cultivating, and ultimately developing it for residential purposes.
While the potential pitfalls and inherent problems that are commonly associated with constructing a custom home on Colorado terrain are definitely challenging and can prove trying to the inexperienced or uninitiated, however, there is a local and reliable custom home builder readily available at Helton Construction!