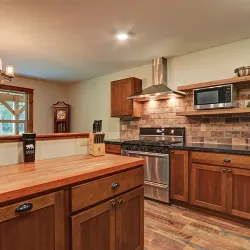 It is with tremendous pride, great importance, and fortuitous opportunity that our company, Helton Construction, announces to you, our current or prospective client, that we are now offering complete construction coverage pertaining to new builds/construction and land/property development capacities throughout all of Colorado!
Starting with the initial site assessment & survey, followed by design & permitting, and concluding with the actual construction of a custom home; our new construction coverage is promised and proven to be thorough, diligent, and above all else: accommodating to you, the client.
You'll see the creativity, the attention-to-detail, and the commitment we put into our custom homes.  Every home is special, built with the consideration to detail and care it deserves.
Beautiful Custom Homes on Colorado Terrain
As many would-be, existing, or potential homeowners here in Colorado will vouch for, the naturally manifested landscape that is common to the Rockies is equally alluring as it is challenging when it comes to prospecting, charting, cultivating, and ultimately developing it for residential purposes.
While the potential pitfalls and inherent problems that are commonly associated with constructing a custom home on Colorado terrain are definitely challenging and can prove trying to the inexperienced or uninitiated, however, there is a local and reliable custom home builder readily available at Helton Construction!