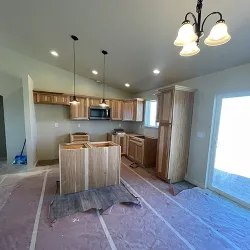 Helton Construction strives to provide all of the resources and support to help you create your dream custom home in Colorado. We'll focus on assisting you through all aspects of your new home construction from beginning to end. Helton Construction will provide the expertise necessary to make the planning and building process a great experience.
We are committed to providing superior craftsmanship and attention to detail on every custom home we build.
Each home we build is as unique as the clients with whom we collaborate. Clients that want a new custom home turn to Helton Construction since they know we value trend-setting design, quality, and energy efficiency.
We make building your new home an exciting, enjoyable experience for you and you will see us work hard at it each and every day. We think you deserve to live is a home that you never want to leave. Every home, right down to the last detail, is built with quality.
Custom Colorado Home Builder
Helton Construction is a premium Colorado custom home builder, has formed its reputation by delivering excellence to each one of our clients. The quality in each of the homes we build speaks volumes about the values of our company.
We're relentless in our commitment to create beauty that lasts and we're as passionate about serving our clients as we are about building the finest custom homes in Central Colorado.
We understand that you want every aspect of your new home to be absolutely perfect, so we take the time to listen to your design goals, architectural ideas, timelines, and any of your budgetary concerns. You'll find that we consider the the time we spend with you building your new custom home to be a mutual partnership rather than just a business deal.
Benefits of A Custom Home
At Helton Construction, we believe that buying a custom home offers many benefits over buying an existing home. Here are some of the top reasons why:
Personalization
One of the biggest advantages of buying a custom home is that it can be designed and customized to meet your exact needs and preferences. Starting with one of our floor plan (or bring your own), you can create a home that perfectly fits your lifestyle, from the layout and number of bedrooms to the finishes and materials used throughout.
Energy Efficiency
Custom homes can also be designed to be more energy-efficient than existing homes. We build our homes with some of the most efficient appliances, windows, insulation, and HVAC systems on the market, which can help you save money on utility bills and reduce your environmental impact.
Modern Features
A custom home can be designed with the latest features and technology, from smart home systems to advanced security and entertainment options. We can also help you choose high-end finishes and materials that might not be available in existing homes, making your new home truly unique.
Warranty
When you buy a custom home from Helton Construction, it comes with a warranty from us. This can give you peace of mind knowing that any issues that arise during the first few years of homeownership will be covered by us.
Lower Maintenance Costs
Custom homes are built with new materials and appliances, which means they will require less maintenance and repairs than existing homes. This can save you time and money in the long run.
Location
When you build a custom home, you have more control over where it's located. You can choose the perfect lot while choosing design features to take advantage of the surroundings. This can make your new home a truly special place to live.
At Helton Construction, we're committed to helping you build the custom home of your dreams. Contact us today to learn more about our custom home building services and how we can help you create a home that perfectly fits your needs and lifestyle.