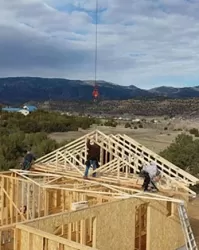 Helton Construction is looking for an experienced Lead Carpenter / Working Foreman for immediate hire. This position is for general carpentry and construction for new construction homes. The Lead Carpenter is responsible for supervising and explaining tasks to a crew of field carpenters, subcontractors, and laborers on various residential construction sites.
A Lead Carpenter / Working Foreman for Helton Construction is responsible for monitoring field carpenters on performing construction duties, analyzing schematics and/or blueprints, following contractor's specifications, completing the project within the agreed timeframe, maintaining materials with the budget goals, ensuring the highest quality and client's satisfaction. 
The Lead Carpenter / Working Foreman will regularly inspect the work performed by others, perform adjustments as needed, repair defects and inconsistencies, and adhere to the safety standards and protocols during operations. 
The successful Lead Carpenter / Working Foreman candidate will have a good and relatable character capable of leading other carpenters and laborers along with receiving and applying instruction from the Contractor.
Knowledge | Skills | Abilities Desired
Experience in all phases of carpentry including demo, framing, and building of masonry forms.
Assist with the construction of homes in different aspects such as stud framing, drywall, fire caulking, insulation, foundation layout, framing, sheetrock installation and finish carpentry.
Apply knowledge of wood refinishing, rough carpentry, finish carpentry, framing, siding, concrete formwork, concrete placement.
Analyze plan data to ensure correct placement and elevation of formwork and maximize performance and productivity
Hang interior / exterior doors and install all associated hardware.
The skills you currently possess matter, but more importantly, I am looking for a person with good character. I can teach you the skills you will need to help me build quality custom homes in Colorado. - Wendell Helton
Qualifications
High school diploma or GED
Valid driver's license
Proven experience in residential remodeling or construction
Sound knowledge of safety standards and procedures
The ability to safely operate power tools
The ability to read blueprints and schematics
The ability to work outdoors in cold / hot weather conditions
Excellent time management skills
Effective communication skills
Strong leadership skills
Understand the importance of operating as a TEAM